UPDATE 4/5/2017: Listen to the full Interview below.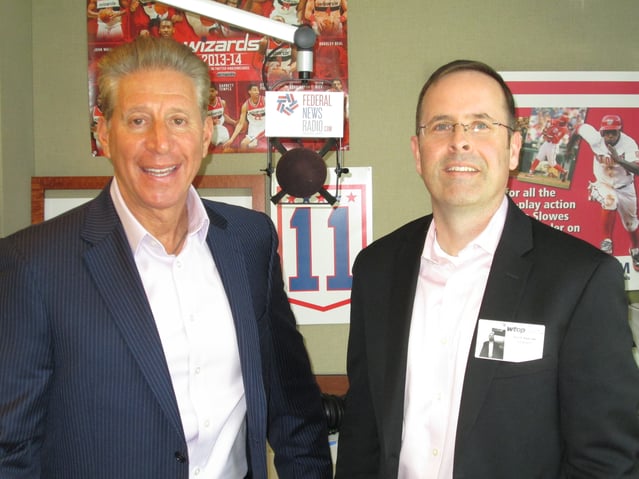 Last week, Terrill Andrews, one of the founders of Accelera Solutions, and Steve Weiss, Accelera's President and COO took to the Federal News Radio studios in Washington DC to record an interview about our changing company, culture, and what lies ahead for Accelera and the Federal Government. With Accelera recently being named the Microsoft Federal Cloud Partner of the Year for the second year in a row, and for the only years that this award has been given, the conversation is especially timely. Cloud is on the minds, and in the budgets of many Federal agencies, and during this interview Terrill and Steve talk about how agencies are overcoming common challenges when moving to cloud, especially when it comes to security. Here are a few words from Terrill and Steve regarding the experience.
Steve Weiss, President and COO:
For me, not knowing the questions and the fact that it was a live taped interview - with no " do- overs" added to some nervousness - but the fact that we were talking about Accelera and the important things our Accelera Team does for our many customers - made it easy to do this interview. As the newbie to Accelera Solutions, I'm extremely proud and excited to be part of leveraging our history and successful past performance to together build a culture that drives our future. As the interview progressed over the 40 minutes' timeframe, it became easy to just talk from your heart and it was fun to share our many successes as well as the benefits and values of Accelera's culture.
Terrill Andrews, Executive Vice President:
Last week I had my first experience as the subject of a radio interview. As is the case with other firsts I was filled with a nervous excitement. As we walked into the studio, not knowing what to expect, we were greeted warmly by our host John Gilroy. John described the interview process and shared some of his recent experiences with his other subjects and it became clear that John knew a thing or two about Information Technology in the Government market. The interview started with Steve and I describing our backgrounds and moved into who Accelera is and how we have become a leading Cloud Solution provider to the Federal Government. A recurring topic of the interview was Microsoft's recognition of Accelera as the Federal Cloud Partner of the Year two years in a row, which John acknowledged as recognition not easily won. This is something that Accelera is particularly proud of, and it shows the level of commitment we have to the cloud and to our customers. We moved on to talk about Accelera's people and how the success of the organization has been built upon their immeasurable contributions. Our people are extremely important to us and as a result we spent a significant amount of time on that subject. We then discussed the future of IT in Government. Cloud has matured to a point where there are not many use cases remaining where it does not make sense. All of our customer interactions today involve cloud in some way, shape, or form. I hope we leave the audience with a better understanding of Accelera and the importance of our people and our customers' missions.
The interview aired on Federal News Radio, (WFED 1500AM, Washington DC) on April 4 at 1:00pm.
UPDATE 4/5/2017: Listen to the complete interview here: https://www.youtube.com/watch?v=eHs2hpFay8Q