Life After XenApp 6.5 – To Upgrade or Not To Upgrade
"All good things come to an end," so the saying goes. XenApp 6.5 will finally reach the end of its supported life this summer on June 30, 2018 (or August 24, 2016 depending on which date you look at in Citrix's lifecycle documentation). It's either be a great day or the beginning of some major risks for your organization.
If your organization relies heavily on a Citrix XenApp 6.5 or older environment for daily operations, and you're already ahead with upgrading it, then congratulations! If not, then it might be time to put some thought behind your plan.
XenApp 6.5 had many features that organizations were crazy about but there is absolutely no need to worry. The latest Long Term Service Release (LTSR) build of Citrix XenApp and XenDesktop 7.X will have you covered. That is, after you get your head around the new architectural differences.
Below is a charted breakdown from Citrix defining the different terminology helpful in understanding the transition.
XenApp 6.X
Instead of…

XenApp 7.X
Think of…

Independent Management Architecture (IMA)

FlexCast Management Architecture (FMA)

Farm

Delivery Site

Worker Group

Session Machine Catalog
Delivery Group

Worker

Virtual Delivery Agent
Server OS Machine
Desktop OS Machine

Zone and Data Collector

Delivery Controller

Delivery Services Console

Citrix Studio and Citrix Director

Publishing applications

Delivering applications

Data store

Database

Load Evaluator

Load Management Policy

Administrator

Delegated Administrator
Role
Scope
High Level Architecture, Citrix 7.X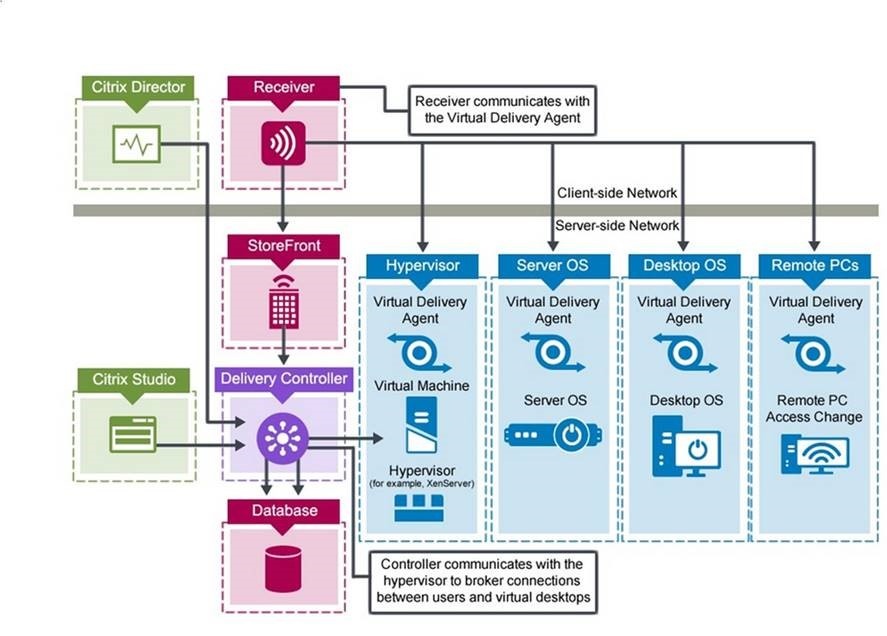 The Upgrade or Migration Process
Scripts are available to migrate a configuration from a 6.X to a 7.X environment but in my personal experience, it takes less time to standup a parallel environment if you have the compute and storage capacity to do so.
I have found that the biggest problem with migrating a configuration is not with the process itself, but rather with the migration of old configurations and workarounds that are likely no longer needed.
A proper review of the current environment, including determination if some of the published resources are still in use is the very first step in a successful upgrade from Citrix 6.X to 7.X.
Change Can Be A Good Thing
The look and feel of Citrix Studio versus the older delivery services console should be a welcome change for administrators. I find myself using web based Citrix Director with Insight or NetScaler MAS for most of my daily tasks aside from changes that must be made using Studio or PowerShell Scripts.
Here are a few things I thought about recently regarding reasons to stay on 6.X or upgrade to 7.X LTSR or CR for those organizations that want run the most current releases:
Why you should not upgrade:
If your users don't want better graphics, faster application launch or support for newer operating systems and applications,
If you feel that your organization can support a product that has lived a long successful life but is no longer supported, or you would rather pay for most (if not all) of the cost of the actual upgrade to extend support of the product,
If you dislike your users, and enjoy moving to multiple systems to troubleshoot seemingly simple issues.
Why you should upgrade:
If a great user experience, enhanced hardware support, GPU offload and granular control of the user's session is desired,
If support for the latest operating systems is important for your organization,
If the ability to rapidly scale and easily support disaster recovery is important to your organization,
If you want to avoid a tough conversation with your leadership when your 6.X or older Citrix environment goes down.
It looks as if the number of reasons to upgrade your XenApp outnumber the reasons why you should not. What are your plans for upgrading? Leave a comment below!
At Accelera Solutions, we specialize in designing and executing migrations/upgrade plans that can be tailored to your organization's specific needs. Please contact us here with any questions and we'd be glad to chat to chat with you.